Top News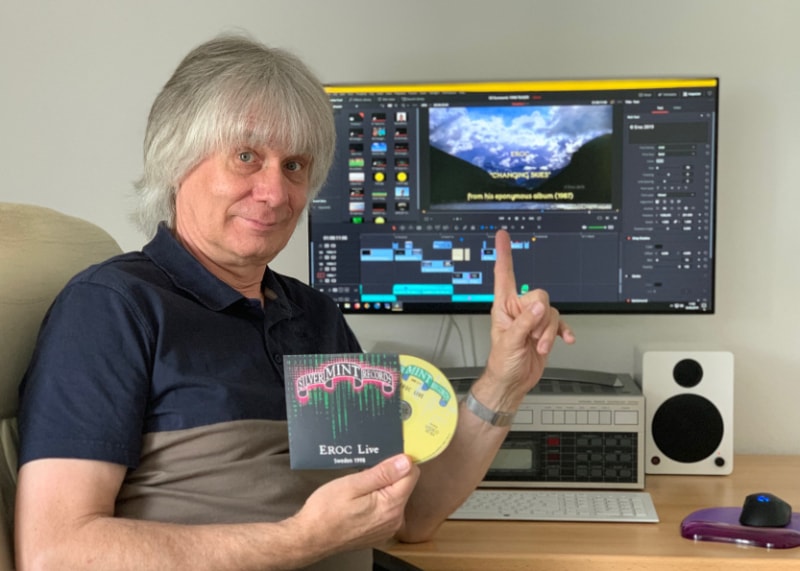 EROC's first solo performance after he had left Grobschnitt took place in 1998 at the
Eurosonic Festival in Sweden, hosted by Winfried Trenker from WDR Radio.
Right now an amateur bootleg was discovered and turned into a full-length movie,
available for € 18,- on Blu Ray here:

https://eroc.jimdosite.com/


This email address is being protected from spambots. You need JavaScript enabled to view it.


A short compilation can bee seen here:


Eroc (Joachim H. Ehrig) was born on Nov. 15th, 1951 in Weimar / Thuringia. By end of 1954 he moved with his parents to Oberhausen (Ruhr Valley) and in 1961 to Hagen in Westfalia. There he founded in 1966 his student band The Crew, painting the town of Hagen and beyond during the following years. From this outrage gang which truly can be named the first Punk band, in 1971 Grobschnitt came into being, where Eroc played (not only) drums until 1983.
Besides he forced his foible for electronic gear and recording-technology, later becoming most important for The Crew and Grobschnitt and leading in 1975 to a solo-career, when he started doing complete productions by using playback-methods. Until 1986 he recorded five albums, being released by Metronome / Brain on Vinyl and later on CD.
From his third LP "Eroc 3" (1979) his greatest hit "Wolkenreise" (Journey Of Clouds) was released millionfold and is heard throughout the decades on radio and TV up to the day, ringing in everyone's ear (not only) in Germany.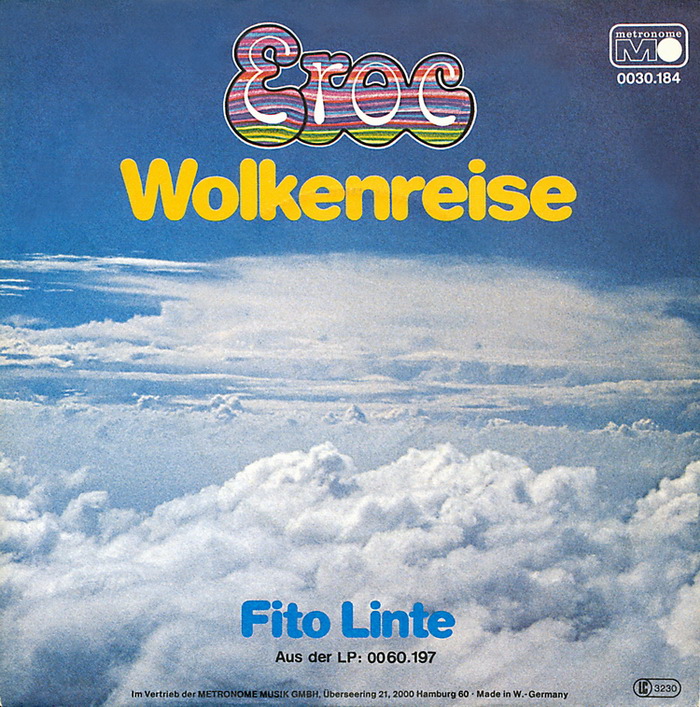 Listen here:
Die Wolkenreise von Eroc... (Link muss noch angepasst werden)
When will Eroc's solo-productions be released perfectly remastered on CD? –
This question reached us again and again for so many years. Apart from illegal bootlegs by e.g. Germanophon, which were sloppy copied from crackling vinyl, most of Eroc's own creativity was taboo for the friends of the digital super-sound.
This lead into the abnormal situation that critics like e.g. the outstanding review of Eroc 1 by Julian Cope from October 20th, 2002, to be found on his website
www.headheritage.co.uk/unsung/reviews/index.php?review_id=630
had to originate from such weird sources, which the reviewer himself regrets a lot, wishing from his heart to get the music in better quality. His wish and those of thousands of other fans became reality during 2005 and 2006.
Released by Universal on May 25th, 2012
Digital remastered for ultimate sound quality: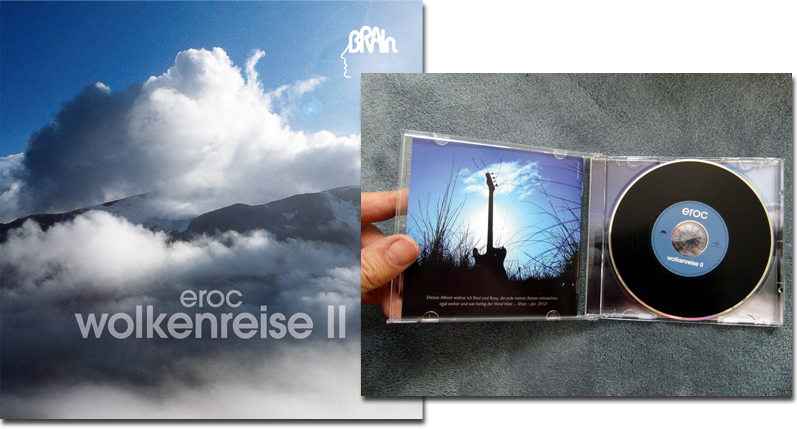 Eroc - Wolkenreise II

Tracklist:

01 Wolkenreise 04:32
02 Sonntagsfahrt 03:33
03 Wolkenreise'88 03:50
04 Changing Skies 04:32
05 Wolkenreise'98 04:27
06 Space Shuffle 04:10
07 Wolkenträume 03:43
08 Nachtfahrt 04:18
09 Vogelfrei 03:54
10 Fantastico 03:50
11 Zimperlein 03:39
12 La Stampa 03:44
13 Seitenwind 02:58
14 Javea 04:30
15 Hundertwasser 02:31
16 Zauberwald 03:45

Bonustracks:

17 Radio Puschkino Reloaded 04:36
18 The Sugar Pie Soundtrack 04:18
19 Wolkenreise'98 / Radio Edit 03:40
20 Wolkenreise / Radio Edit 03:40

Total Time: 79:10


Check out trailer for the album here: Video Wolkenreise (Link muss angepasst werden)

For MP-3 examples from all CDs check out: Sounds
From the Hagen newspaper, issue 2005-12-17:

Radio:
2010 - Wolkenreise hits the SWR charts "Top 1000 Of The Year 2010" at number 678.
2011 - Wolkenreise steps up in "Top 1000" 205 spots to number 473.
2012 - Wolkenreise jumps up 308 spots to hit number 165.
2013 - Wolkenreise again in first third, this time on 275.
Here's the link to the complete charts of 2012: SWR Top 1000 (2012)

Radio:
Eroc was on FEB 24th, 2009 guest in the WDR show "Musicclub". Topic: the art of mastering and remastering.
Here a complete recording of the (German) show: WDR 2 - Musikclub 2009-02-24